innovative telepresence systems
Having the right contact person on site at all times while efficiently managing personnel costs is a major challenge for regional banks. Customers demand an all-round service at all times. Although online consulting is possible, it rarely offers the possibility to conclude legally binding contracts. A possible solution could be telepresence systems for digital consultations. With the new video service complete solutions based on our PHEX stand Digital Signage stele all expectations are fulfilled.
Close to the customer with the PHEX VS
The PHEX VS 42″ model is equipped with innovative PTZ camera technology for the highest possible optimization of video calls. The sign pad enables a digital signature to ensure business transactions are completed. Furthermore, an ACD (Automatic Call Distribution) technology for effective queue management is integrated in the device. The customer is automatically forwarded to the appropriate employee. The document scanner mounted in the top of the device and the NFC interface also allows easy identification for customers and the submission of documents.
Additional function for the hearing impaired
A special highlight of this design is the smart contribution to barrier-free consultation. An induction coil integrated in the top can connect to hearing aids. Via a directly transmitted audio signal, a hearing-impaired person can thus take full advantage of the video service. Advice as it should be: Barrier-free and Smart!
EXCLUSIVELY DISTRIBUTED BY OUR PARTNER TELLMA
Tellma GmbH is a genoFinetech company for innovative telepresence solutions in the financial and banking sector. The company has two terminal systems that are used in banks throughout Germany. In cooperation with Tellma we were able to realize the PHEX VS 42″.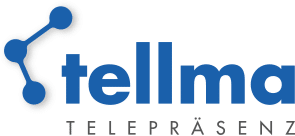 The PHEX VS 42″ LITE is the consulting terminal has a high-resolution camera and a telephone receiver for communication with the bank employee. It is possible to scan documents. This leads to an efficient form and document management. In addition, the device is equipped with an RFID reader to easily carry out transactions or identification processes on site.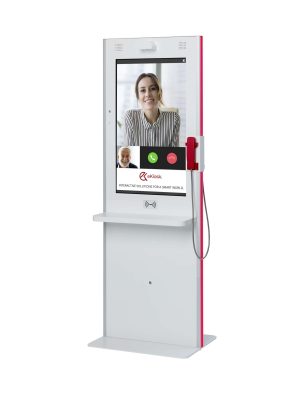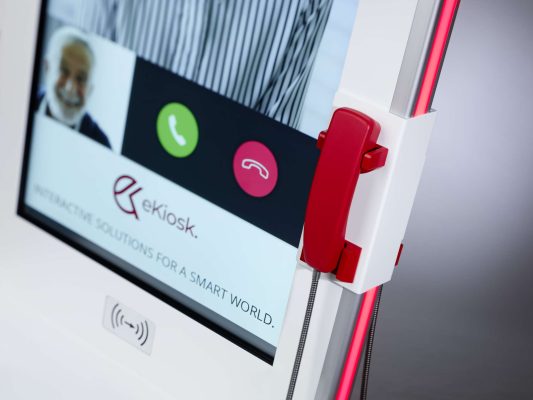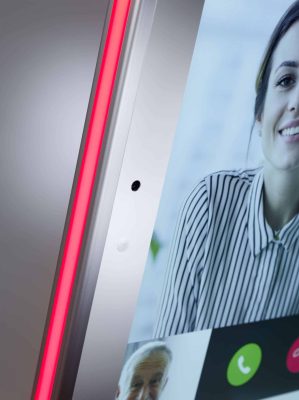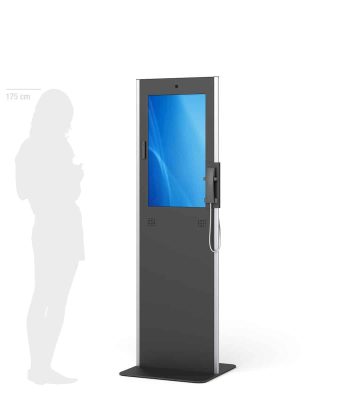 The PHEX VS 32″ is a pure consultation terminal, equipped with a telephone receiver and a camera. The device is suitable for trouble-free continuous operation and has an LCD display in 16:9 format. The touch screen is based on infrared technology and offers at least 10 point multi-touch.

The Cologne-based software company has been offering professional solutions for online communication for over 15 years. The company accompanies customers with their projects from the very beginning and conducts training and workshops for employees and consultants.
Particularly in the banking sector, purpleview provides a reliable communication channel with its empathyfinance software. 
Facilities that want to expand their multi-channel offerings can thus create trust and proximity to the customer. Video consulting provides an uncomplicated channel for handling business transactions.  


You want to implement a similar project?
You want to implement a similar project?